August 29, 2022
Ilya Kuklin
"When 40-50 houses are being built simultaneously, about 75,000 tasks must be completed during one construction season (May-October). The employee does not need to think every time 'What is the next task? What should I do right now?' They just look at Bitrix24 and perform tasks that have already been generated for them."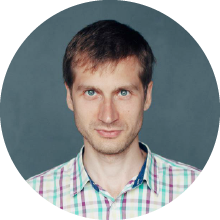 Ilya Kuklin
CTO, RNR
Chief Technology Officer Ilya Kuklin and Marketing Manager Maxim Kolpakov share how they implemented Bitrix24 in the construction company RNR.
Our company has been in the market since 2001. We were the first to bring Canadian technology of building I-beam frame houses to Russia. This technology is used to create and adjust the main elements of a house at the place of production. The construction team then later assembles the house as a Lego constructor on the site.
We use three different technologies to build houses: an I-beam frame, sill timber, and reinforced concrete. Most of our customers prefer two types of houses: from 150 to 200 m2 and more than 200 m2. During the construction season, we build forty to fifty houses, and we are planning to build many more. For future growth, it's very important to develop efficient business processes.
Ilya Kuklin:

"The construction industry (due to the technological complexity and the long period of construction) lags behind other industries (e.g., retail, logistics). Today, finishing construction of a house a few months later than planned is a common practice in the industry. But following the general trend to speed up all processes (for example, Uber serves a taxi in 3-5 minutes), customers require strict compliance with deadlines and greater transparency. This made us think of optimizing our business processes."
At some point, we realized that if we didn't make all business processes transparent and automate them we wouldn't grow. We would constantly suffer losses, delay the construction period, and lose customers, but one incident finally pushed us to implement a business management system. Due to a foreman's fault, we lost 30 percent of profit from a construction project.
At the initial stage of construction, the builders made a mistake when installing the insulation. This error was discovered much later when it was already impossible to find out why it had happened. All documentation was scattered about in different places: numerous folders on the hard drive and in the cloud, Word files and Google documents, discussions by email and WhatsApp.
Finding the causes of the error was simply unrealistic.
It's quite inexpedient to change the head foreman in the midst of the construction season. So, he was reprimanded but continued to work for the company. His mistake cost us more than 400,000 rubles (~$7,000), and we had to reimburse this amount from our own profit.
After this incident, we realized that we couldn't continue doing business this way. We needed to track all processes - all tasks at each stage. We needed to identify errors at an early stage when fixing them didn't cost thousands of rubles. Moreover, we wanted to ensure that funds were spent as planned and not ripped off (a common practice in the construction industry).
So, we started looking for the right solution among online services. First of all, we modelled the work of an ideal system that would solve all our problems. We assembled a fairly lengthy list of requirements - about twenty altogether. The three main ones are flexibility, mobility, and the ability to create own scenarios of usage.
Ilya Kuklin:

"It turned out that there are not so many SaaS services that are suitable for us in the market. Basically, we were offered 'heavy' on premise solutions without applications for tablets and phones. The price of implementation is from 3 million rubles ($50,000). Considering the risks that the system might not work for us, we were not ready to pay this amount of money immediately.

In the end, we opted for Bitrix24. It gave us plenty of room for customization and the ability to work in the cloud and on mobile devices. Bitrix24 can be truly called a kind of 'Swiss knife' among business management systems. It's a tool that has tremendous fine-tuning capabilities, especially if you use them correctly."
Why do we need Bitrix24?
Construction is one of the obscurest industries. It's not just about financial means, which tend to "disappear" during procurement. The business processes themselves are rather complicated and confusing. Many actions need to be done here and now. Moreover, much depends on external factors, for example,
weather forecast for a particular day
type of road (asphalt or dirt)
reliability of suppliers
quality of building materials
Many more factors could be added that affect construction of a house. Each house also requires more than 1,000 construction items, which are provided by 100+ suppliers.
Building the house itself can be divided into 30 separate stages. Each one involves 50-60 tasks, which are performed by a team of 12-15 people (e.g., an engineer, an architect, a foreman, a supplier). In total, you have to perform 1,500-1,800 tasks and write more than 500 supporting documents to build a house… only one house.
When 40-50 houses are being built simultaneously, about 75,000 tasks must be completed during one construction season (May-October).
All processes should be under control: purchasing quality materials at the best prices, delivering them safely and on time, paying invoices, monitoring timing and technology compliance, just to name a few.
Accidents may also happen.
Ilya Kuklin:

"Here is a simple example. We are waiting for windows to be delivered from the supplier we have been working with for many years. The manager says that the truck with the windows has already left and is on the way. After two hours, he calls back and says that the truck with the windows has broken down, and we have to wait for another one. Time goes by, and the truck is not there...

In the end, we found out that the truck didn't go anywhere. The supplier didn't have time to process our order and was trying to buy time."
This situation is not exceptional, but predicting all emergencies is hardly possible, which is why you need a tool that will predict construction time, keep track of delays, and find the causes of failures to meet the delivery date.
When one of the foremen found out that we were going to introduce Bitrix24 (by the way, the very one whose fault cost us 400,000 rubles), he was shocked: "Are you going to control all my actions? Will you know exactly where I am and which task I am completing?" Later, he submitted a resignation notice.
Bitrix24 hadn't been implemented yet, and we were already suffering losses, but we knew we would benefit in the future.
Steps of implementation
1. In Bitrix24, we programmed all the tasks that must be completed to build a house. We had 1,800. The performer and the responsible were assigned for each task. Most importantly, we combined these tasks into a single algorithm.
Ilya Kuklin:

"For example, in Bitrix24, the architect marks the task "Prepare the architectural concept" as "Completed". After that, Bitrix24 automatically creates the task "Check the architectural concept" and assigns it to the engineer and the account manager. When both the engineer and the manager complete this task, the following task is created: "Obtain Approval from the client".

According to the given algorithm, all 1,800 tasks are created one after another. Every employee at every moment knows by which date they should complete one or another task! The employee does not need to think every time "What is the next task? What should I do right now?". They just look at Bitrix24 and perform tasks that have already been generated for them."
We set a deadline for each task. If the task is not completed on time, all interested parties are notified. We also have an approximate estimation of when each construction phase will be completed (e.g., the foundation is filled, the walls are erected, the roof is mounted). If a stage is delayed, the system automatically recalculates the time frame for all subsequent steps.
2. We love filters. We use them to track overdue tasks and tasks for each employee. We can also track delays for specific construction sites or delays on the part of suppliers.
On one hand, it helps to concentrate on preventing delays. On the other hand, we analyze the causes of delays and readjust business processes.
3. We also control the construction process directly in the system. Foremen are obliged to upload photos and videos from the site so that the engineer is aware of what is happening there. Now we can go to the construction area two or three times less often because we can control remotely most of the processes.
4. The payment process has been simplified. We receive nine different types of payments from our clients.
For example:
Payment within 30 days after signing the contract
Advance payment before the start of the stage
Payment after wall construction on the second floor
Final payment after a certain stage is completed
There are five more types of payments. Considering that we build 40-50 houses simultaneously, 100-120 payments are made every month. It is very difficult to keep track of all of them. Now everything is automatic.
For example, once the foreman has completed installing the walls on the second floor and marked this task as "Completed", the accountant gets an automatically generated task to invoice the customer.
5. We store all current documentation in the cloud. A housing project can change several times, and all employees should have instant access to the current version of all project documentation.
The link to the folder with the most recent version of the project is automatically added to each task. When a new construction object is added to the system, a folder for each stage (with a predefined subfolders structure) is automatically created inside the cloud disk. This makes life easier and helps keep all documents in order.
The results of Bitrix24 implementation
The implementation process of Bitrix24 took about nine months (and continues to this day). We have one full-time specialist who is in charge of implementation, but all key employees of the company (the engineer, the architect, construction managers, foremen) are involved. Implementation cost two million rubles (~$34,000), with 100,000 rubles being spent on the service license. The rest was paid to the implementation specialist, who adjusts the system to our business processes.
I can already say that thanks to Bitrix24 we save about 150,000-200,000 rubles a month ($2,500-$3,500).
First of all, we have minimized the number of delays. Second, we save money by reducing the number of errors. In construction, it is easy to lose 10,000-20,000 rubles on incidental expenses at each stage for each facility. Due to automation, we were able to reduce these costs at least twice.
The main benefit is not even in the reduction of costs. The main advantage of automation is that it allows us to scale the business, meet deadlines, and improve the quality of construction. If we tried to build 100 houses a year without Bitrix24, we simply couldn't do it.
Many offline companies are against change and want to do things "the old-fashioned way", but I'm sure that these companies have no future.